Fiesta Seas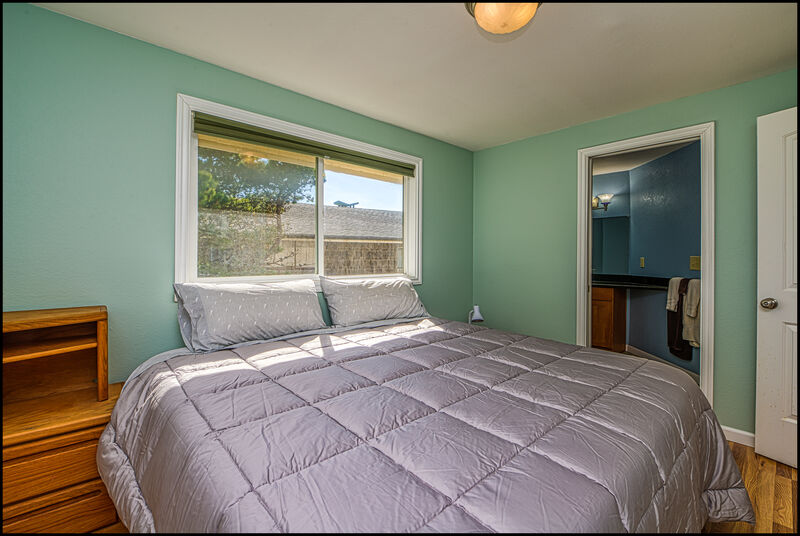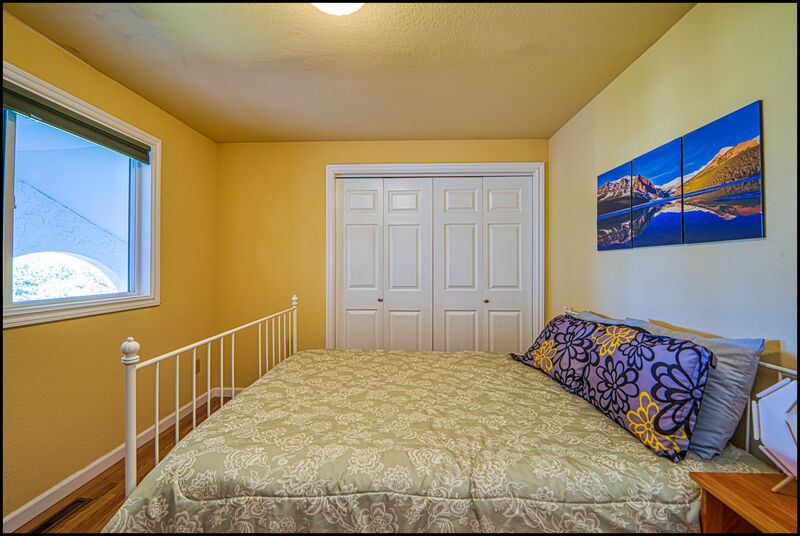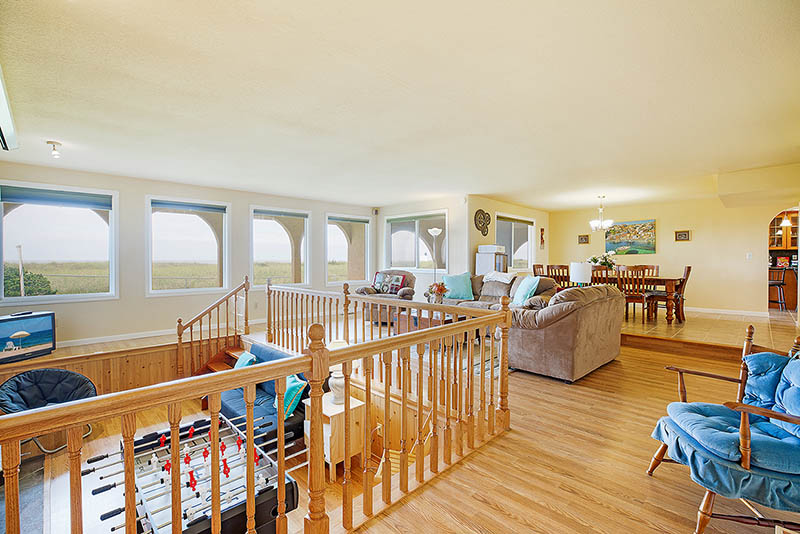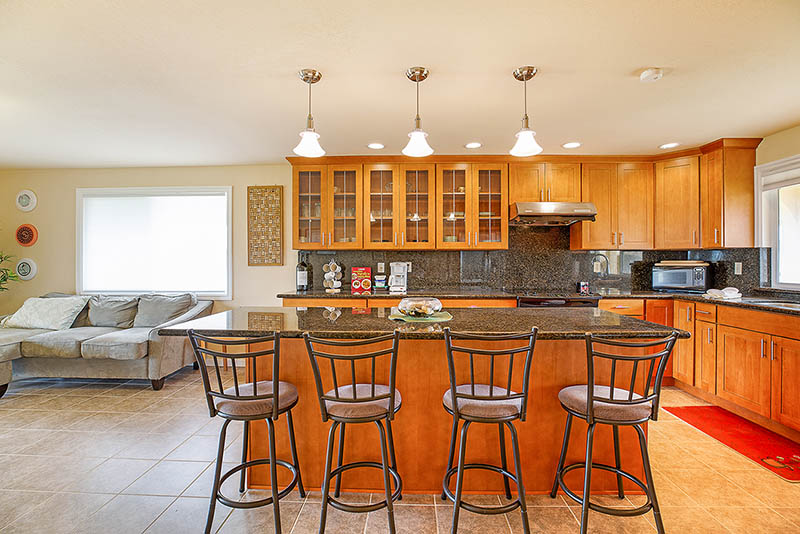 Looking to have a fiesta here at the sea? Our Fiesta Seas home is situated right near the ocean and it's ready for you to enjoy for a relaxing vacation. The beautiful Spanish inspired home is up to date, fun and in a great location. The sea itself is it's own fiesta so bring along your favorite people, up to 9 total and enjoy a getaway.
Fiesta Seas
This beautiful seaside home has 3 bedrooms and 3 bathrooms, big enough for the entire family or all of your closest friends!
The master bedroom holds a king sized bed as well as it's own private bathroom. Another bedroom holds a bunk bed with a queen on the lower level. The top level is a twin.
A third bedroom holds the remaining beds which are twin sized, perfect for the youngins's in the family or the single ones!
The living area also holds a futon couch for an extra person if needed. Don't think that whoever you throw on the futon will be disappointed because they're right in front of the fire place. They'll get to stay cozy and warm with their own personal fire.
If cooking is something your group enjoys then get ready to cook up a storm because the kitchen here is to die for. With updated appliances, it is warm and spacious enough for everyone to pitch in and help out with dinner. The cabinets are fully stocked with everything you'll need and the island is oversized so everyone can visit while awaiting the meal. Better yet, there is a separate dining room to host a lovely meal with friends and family.
More About Fiesta Seas
The living area is spacious and oversized filled with a comfy sectional couch, that's big enough to sprawl out on after a long day beneath the sun.
The best part about relaxing at Fiesta Seas would have to be the projector that you can view your favorite movies on.
If you're bringing the kids along then they will enjoy the fun touches we've kept in the living room area. There is a foosball table and a chalkboard available for use too. Dogs are welcome with our standard per dog, per night fee.
About Grayland
Looking to book one of our properties here in Grayland? Well you've come to the right place! We know the ins and outs of everything to do here on the edge of Washington.
Visit the state park that is located right on the beach front. Here you can dive right into those seaside activities you long for.
The warm weather brings many fishing options such as charters and tours. Go on a boat tour to see the water and beaches surrounding. Enjoy surfing or kiting at any of the beaches. A few miles away, Westport has a couple of wineries that are the perfect getaway for a couple looking to escape.
During the colder months, you'll find museums and restaurants that stay open year round for you to enjoy. Explore the antique shops and boutiques that have trinkets and souvenirs for your keepsakes.
The Beachy Day Promise
Here at Beachy Day Vacation Rentals, we vow to make booking with us simple and exciting. We know that booking a rental property home for your vacation can be unfamiliar territory for some, while others know their way around it. Because we know this, we ensure that each of our properties are up to high quality standards.
We do our absolute best to provide support to our guests when booking.
We are available to assist you every day of the year if you have any questions or concerns before, during or after your visit to our home. We have onsite property management that are available 24/7 for anything concerning that may arise.
Small Dogs Allowed
Beach Front Home
Starry Starry Nights
Gas Barbecue
Family Friendly
Foosball Table
Televisions
Bird Flyways
High Speed Wireless Internet
Name: Fiesta Seas
Status: Active
Rating:

Type: House
Country: United States
State: Washington State
Destination: Westport
Location: Grayland
Setting: Beach Front Home
View: Partial Beach View
Internet: Yes
Floors: 1
Entrance Floor: 1
Bedrooms: 3
Beds: KKQC
Bunks: No
Baths: 3
Normal Occupancy: 4
Sleeps: 8
Max Occupancy: 9
Parking: 3
Pets: None
Checkin: 05:00 pm or later
Checkout: 11:00 am or earlier
Website: FiestaSeas.com
Manager: Beachy Day
BED CODES: K=King, Q=Queen, F=Full, T=Twin, C=Futon Couch, M=Mattress, A=Air Mattress, L=Sleeper, S=Sofa, U=Trundle Bed, D=Day Bed
Our Fiesta Seas home is situated right near the ocean and it's ready for you to enjoy for a wonderful vacation!
Property
Minimum Rental Age is 25 Unit
Ocean Front Location Unit
Child Friendly Unit
Handicapped Access, None Unit
Full Kitchen Unit
Living Room - Including Sofa, Led/TV, etc… Unit
Long Term Rentals Welcome Unit
Multiple Car Parking Unit
No Smoking Unit
Small Dogs Allowed Unit
Full Bathroom Unit
DVD Player but No Cable TV Unit
Smoke detector Unit
Hairdryer Unit
Heating & Air Conditioning Unit
Deck Unit
Wood Fireplace (Seasonal) Unit
Outdoor Furniture Unit
Wood stove Unit
Boat Trailer Parking Unit
Smoke detector(s) Unit
No Pets Allowed Unit
Setting
Golf Area Area, 10 to 15 Miles
Water Front Area Unit
Suburban Area Unit
Beach Front Home Unit
View
Full Beach View Unit
Starry Starry Nights Unit
Kitchen
Icemaker Unit
Blender Unit
Electric Stove Unit
Plateware Unit
Gas Barbecue Unit
Toaster Unit
Coffeemaker Unit
Cooking Wares Unit
Dining Room Unit
Dishwasher Unit
Refrigerator Unit
Oven Unit
Microwave Oven Unit
Pots & Pans Unit
Refrigerator - Freezer Unit
Glassware Unit
Bath
Toilet Paper Unit
Basic Soaps Unit
Cleaning
All Linens Provided Unit
Cleaning at Departure Unit
Clothes Dryer Unit
Clothes Washer Unit
Sink Disposal Unit
Convenience
LDS Church Area
Protestant Church Area
Evangelical Church Area
Catholic Church Area
Public Busses Area
Self Service Accommodations Unit
Family Friendly Unit
Automobile Rental Area, 10 to 15 Miles
Garage Not Available Unit
Pharmacy Area, 5 Miles
Post Office Area, 6 Miles
Kitchen Table Unit
Espresso Stand Area, 5 Miles
Unreliable Mobile Phone Coverage Unit
Services
Barber Shop Unit, 7 Miles
Medical Clinic Area, 5 Miles
Grocery Store Area, 2 Miles
Convenience Store Area, 1 Mile
Public Library Area, 7 Miles
Coffee Shop Area, 2 Miles
Full Service Restaurants Area, 5 Miles
Hair Salon Area, 10 to 15 Miles
Shops Area, 5 Miles
Gift Shops Area, 5 Miles
Small Plane Airport Area, 7 Miles
24 Hour Assistance Telephone
ATM Machine Area, 3 Miles
Entertainment
Attractions Area, 5 Miles
Televisions Unit
Television & DVD (No cable or satellite) Unit
Arcade Games Area, 7 Miles
Marina Area, 5 Miles
Casino Gambling Area, 10 to 15 Miles
Board Games Unit
Moive Theatres Area, 10 to 15 Miles
Wine Tours Area, 10 to 15 Miles
Foosball Table Unit
Home Theater Unit
Activity
Big Game Hunting Area, 10 to 15 Miles
Hiking Trails Area, 10 to 15 Miles
Boat Tours Area, 5 Miles
Helicopter Tours Area, 16 to 20 Miles
Whale Watching Tours Area, 5 Miles
Surf Board Rentals Area, 3 Miles
Surfing Lesson Area, 5 Miles
Boat Dock Free Area, 10 to 15 Miles
Fitness Center Area, 10 to 15 Miles
Charter Fishing Area, 5 Miles
Harbor Area, 2 Miles
Bird Hunting Area, 10 to 15 Miles
Inner Tubing Area, 16 to 20 Miles
Beach Combing Area, 1 Block
Camping Area, 3 Miles
Bike Trips Area, 4 Miles
Birding Area, 2 Blocks
Bird Flyways Unit
Shelling Area, 5 Blocks
Antique Stores Area, 5 Miles
Business
High Speed Wireless Internet Unit
Meeting Rooms Area, 8 Miles
Sports
Laundromat Area, 1 Mile
Hiking Area
Golf Courses Unit, 10 to 15 Miles
Saltwater Fishing Area, 5 Miles
Baseball Field Area, 7 Miles
Basketball Court Area, 8 Miles
Boat Dock Area, 6 Miles
Freshwater Fishing Area, 5 Miles
Kite Surfing Area, 5 Miles
Ocean Swimming Area, 2 Blocks
Surfing Area, 5 Miles
Walking Paths Area, 1 Mile
Running Trails Area, 5 Miles
Wind Surfing Area, 5 Miles
Attraction
Tavern Area, 5 Miles
Movie Theatre Area, 10 to 15 Miles
Historical Sites Area, 5 Miles
Windsurfing Area, 5 Miles
Rain Forest Area, 41 to 50 Miles
Farmer Market Area, 10 to 15 Miles
Aquarium Unit, 7 Miles
Special Events Area, 5 Miles
Festivals Area, 7 Miles
Scenic Driving Area
Wineries Area, 5 Miles
Farm Stores Area, 10 to 15 Miles
Book Store Area, 10 to 15 Miles
Sandy Beach Area, 1 Block
Wildlife Viewing Area, 1 Mile
Museums Area, 3 Miles
Public Parks Area, 1 Mile
Nearest
Beach Neighborhood
Bar Neighborhood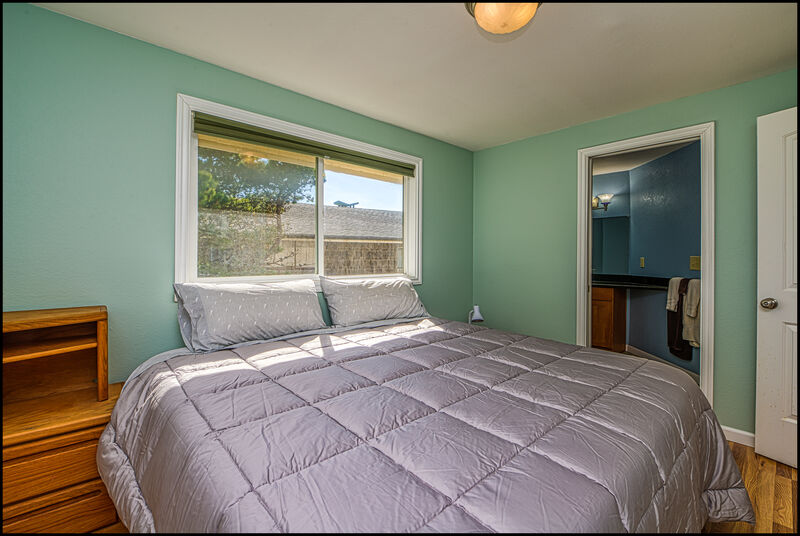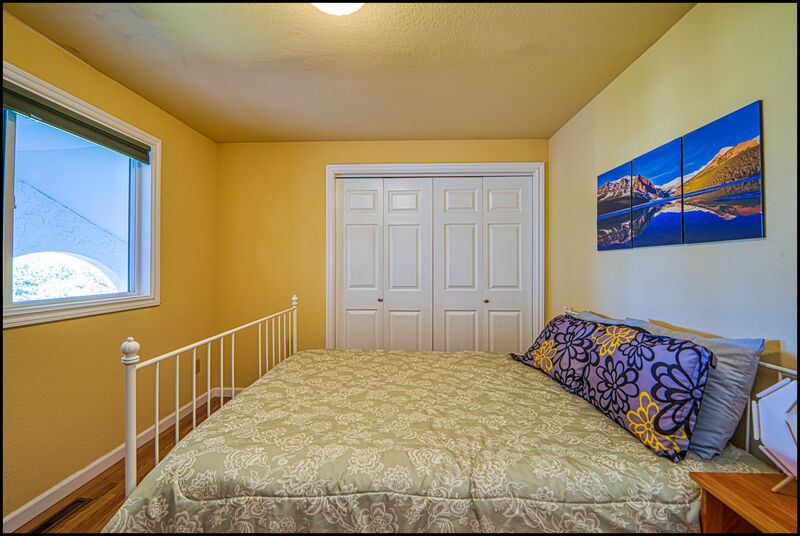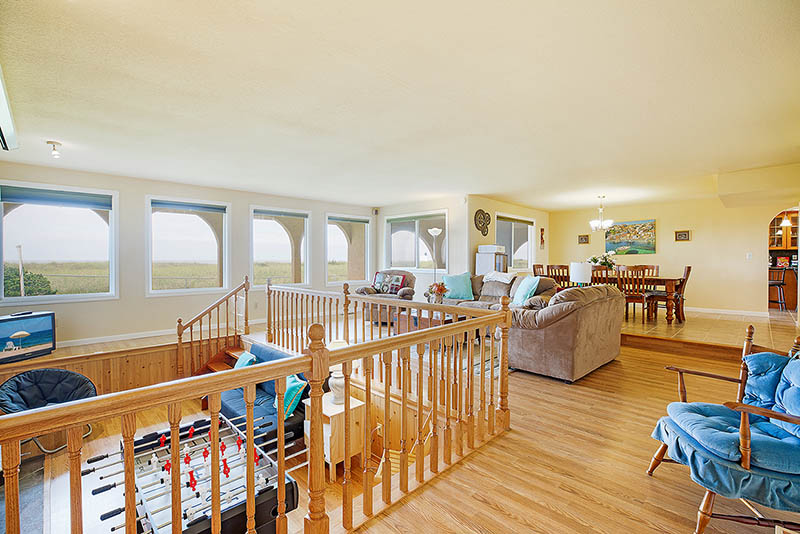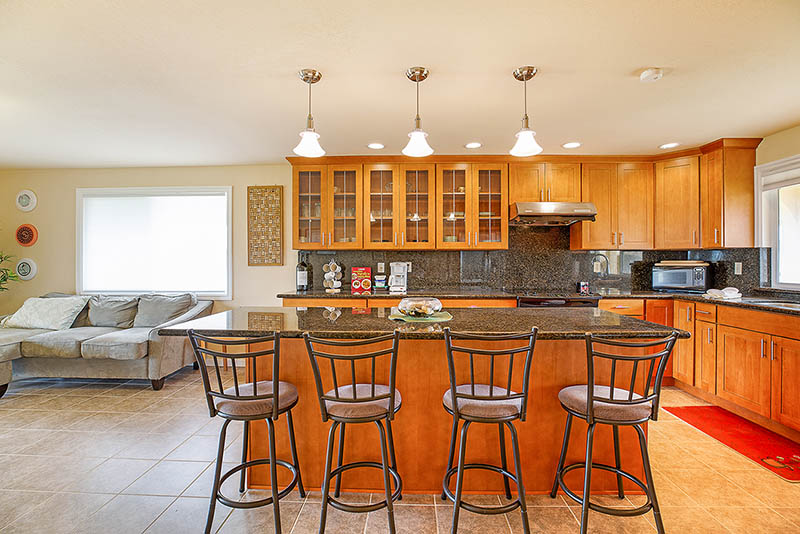 The place is really nice peaceful place.
The place is really nice and a peaceful place. Nice lay out of the house. Comfortable with lots of extras to do.
We very much enjoyed our stay at Fiesta Seas.
We very much enjoyed our stay at Fiesta Seas.
A lovely place to stay.
The home has its quirks but it is generally a lovely place to stay.
Email Manager
Already a member? Click to login
Not a member? Request info below
Say you saw Fiesta Seas House (1111) on WestportVacationRentals.com